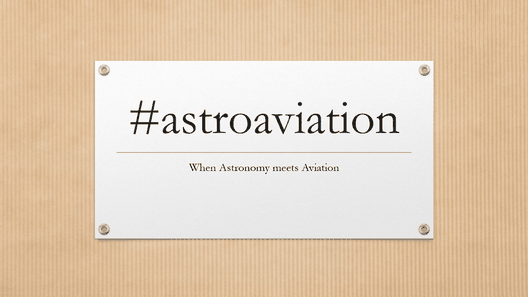 Exactly these where my words as well when I considered about a suitable title for my new blog today.
I knew it should be a combination out of the words Astronomy & Aviation.
So, this was the shortest & easiest way to do that 😉. #astroaviation
But now I'd say let's go & talk about these two  - quite different - topics much more in detail.
First of all there's the question "why" I have chosen this for my today's blog?"!
To explain this I want to tell you a little story.
It's the story of the development of my two wonderful hobbies "Astronomy" and "Aviation".
Since my childhood I have been fascinated about everything to do with nature, our beautiful spaceship one – Earth and the sky.
By the years, at the age of about 12 I had been saving all my pocket money the whole year long till I was able to buy my first OWN telescope. I started observing the night sky day by day…or better said night by night. 😉
This fascination has never ended yet & the "space-fire is still burning" inside me, even I have discovered my second passion a few years ago. The biiig topic aviation. It's so much more than just planes, planes, planes.
You may think now that it is probably quite hard to find a balance between these two interests. Frankly you are right. Especially in the beginning it was not easy.
Now I think I've found the best possible way to solve this issue. Normally you do Planespotting at or nearby an airport, Munich or Frankfurt/Main for example. I do it at home. Via my observatory. The well known "Bernhof Observatory".;-)
I combine both working with my telescope and spotting + identifying + capturing the planes overhead.
Later on at night when the sky is clear I extend my ,,spotting range" of about 10-12km height to the far stars in a distance of thousands of light years.
The biggest dependency factor is the weather. For that I have developed at little concept:
clear

sky

(daytime): Planespotting

clear

sky

(nighttime): Astrophotograghy

overcast

sky

(daytime/evening): Flying at the simulator at home
Finally let's still think about the last point "What Max does at the sim":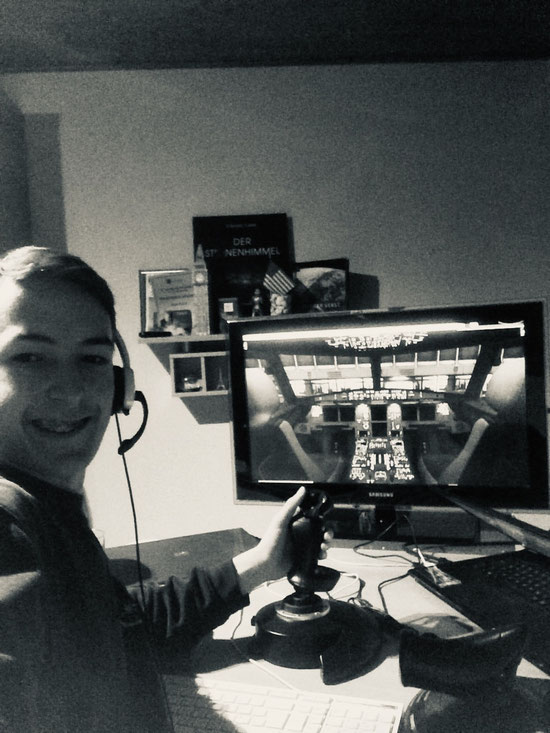 ...and there are more similar points to astronomy as you may think. Weather...Physics...Technique and much more.;-)
So you see: It is possible indeed to connect seemly completely different hobbies to one BIG & it is lots of fun!
With these words, I want to thank you very much for reading & your time,
see you next here on the upcoming Sunday when it says again "New Blog at stern-wetterwarte-bernhof.com!"
All the best,
Max!